What to expect when buying a used laptop…?
At NZ Laptop Wholesale, we pride ourselves on providing good quality Used I.T. Equipment.
When units are received by us Ex-lease, we put them through a series of tests that will identify any faults, if present.
If, on the odd occasion, a fault is found, that fault is repaired. if the fault can not be repaired, that unit is not offered for sale via our website.
we have the utmost confidence that our processes produce some of the best used IT on the market, so much so that out units are backed up with an up to 12 month warranty.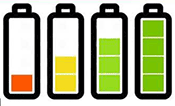 What to expect whan buying a used laptop battery…?
As part of the series of tests we perform, the batteries health is checked.
We are able to get a report on the current state of the battery.
These levels are:
Normal
Moderate
Low
Critical
Needs Replacing
If a Laptop Battery reports its current state as Low, Critical or 'Needs Replacing' we class that as a fault, and do not offer that battery for sale.
The average lifespan of a laptop battery is approx. twice as long as the average lease, so Ex-lease laptop batteries still have plenty of life left in them.
ALL batteries are classed as a consumable part, not to dis-similar to Printer Ink or Car Tires, and do have a limited life-span.
As our business is selling refurbished laptops, we have chosen to also offer NEW REPLACEMENT laptop batteries as well.
Ask us about a NEW Battery for your laptop or look at http://www.laptopbatteries.co.nz/